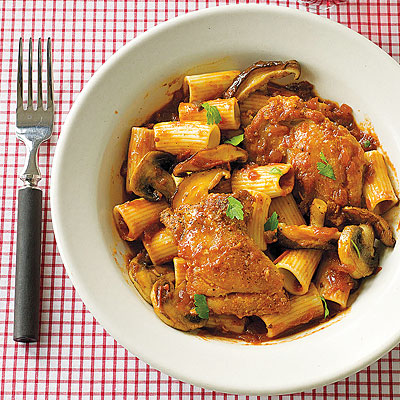 Another home run from The Carb Lover's Diet Cookbook. Ed paged through the recipes over the weekend and requested this. Being the giving and loving wife that I am, I complied and we had this for a Saturday night dinner. I think it's his new fav. He went bananas. We ate it while watching Pioneer Woman preparing a hungry man meal for her husband, so it was quite fitting. Here's the recipe:
Ingredients
1 tablespoonolive oil
1 poundboneless, skinless chicken thighs
1 medium onion, chopped
4 sliced garlic cloves
2 cupssliced mushrooms
1 tablespoonchopped fresh oregano
1 (28-ounce) can whole tomatoes in juice, chopped
1 tablespoontomato paste
1/4 cupdry red wine
1/4 teaspoonsalt
1/4 teaspoonblack pepper
4 cupscooked rigatoni pasta
1/4 cupchopped fresh parsley

Preparation
1. Heat oil in a large nonstick skillet over medium-high heat. add chicken to skillet and brown until golden, turning once, 3 minutes per side. Remove chicken from pan and reserve.
2. Reduce heat to medium; add onion and cook until soft and translucent, 6–7 minutes. add garlic and cook 1 minute. add mushrooms and oregano and cook until mushrooms release their water, 5 minutes.
3. add tomatoes with juices, tomato paste, wine, salt, and pepper; simmer until slightly reduced, 5 minutes. Return chicken to skillet; spoon with some of sauce. Reduce heat to medium-low, cover, and simmer until chicken is cooked through, 20–25 minutes. Remove from heat; transfer chicken to a plate.
4. toss pasta with sauce in a large bowl. place 1 cup pasta with sauce in each of 4 serving bowls. top with 2 chicken thighs, sprinkle with parsley, and serve.