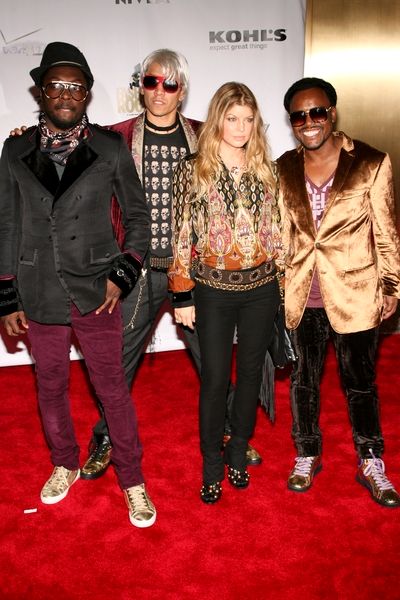 It's been quite the party weekends lately for this couple of schoolteachers/parents!

Friday night E and I danced all night at the Black Eyed Peas concert. The name of their latest album and tour is The E.N.D, which stands for 'Energy Never Dies.' This concert was all about positive energy and having fun! This was only the second concert E and I have been to together. And the first since for me since P was born. We did it up in style! Our Christmas gift to each other was tickets to this show with the VIP package. So we arrived early (no camera! Can you believe it?????) and were treated to dinner, open bar, and other perks before the show. One of the most fun and random things about the experience was that we met all kinds of fun people. We chatted with a roadie for the peas who gave us down low on other musicians she's worked with (Britney: nice, but a little crazy, required bathrobe fluffing, and didn't remember her name until day 90). Her fiancee has worked with Pearl Jam - E's all-time fav forever, so he freaked.
Last weekend Miss P was invited to her first ever sleepover birthday for her darling friend's big number 6! P was all over it, and had an awesome time. Quite convenient for us, as we were also invited to a grownup birthday dinner for our good friend's 34th. Her we are at Rosie McCann's enjoying dinner and dancing.
I'm only posting this as it is not a frequent occurrence. At least outside of our living room!
Finally, last Wednesday was a little reunion for my (oh, I mean P's) playgroup. One of the moms turned 50 (she's the youthful looking blond with the long hair sitting down in the middle). We met at the V-Bar at Santana Row. Go us!

What have you been up to?