I'm still home riding the recovery wagon. I considered going back today, but Ed and the doc requested at least one more day at home. I've been doing some catch-up work on the computer and feel a little weight off my shoulders. Aahh. Almost ready to catch up with The Bachelor and the Texas Multi-Mamas and maybe even a nap!
First though, a little update on one of my goals - to get fit by 40, and lose those extra pounds! Something is different about me this January. I was hesitant to commit to a weight loss plan, because I didn't know if I was serious enough about it. As I told my mom, I love my food and I don't know if I have the willpower! When you are healthy, and don't look half-bad, it's harder to feel the sense of urgency. (As Dolvett on Biggest Loser would say, 'where's your sense of
urgency
??') Well, once I
did
decide to do it, I have been really motivated! I have been counting calories and trying to eat only 1700 a day. (This may sound like a lot, but I really ate whatever I wanted before, probably 2500 a day). I was going to let myself splurge a bit on weekends, as I told Ed, this has to be a regular way of life that I can maintain, but I found myself not wanting to. (I did have a couple glasses of wine, so I guess that counts as my indulgence.) Anway, I lost 2 pounds! I'm pretty happy about that. I expect the pounds will start to come off slower, hopefully I can stay focused.
One thing that has made it so easy was a few tools I discovered. As a (wannabe) cook and healthy person, I tend to shun freezer meals, and always looked at diets that were all made from whole foods. Then, I would get turned off, because there were so many ingredients, little bits of this and that, and things that I didn't like to eat, or were unfamilar with, and suddenly the whole thing lost its appeal.
Now I've found this...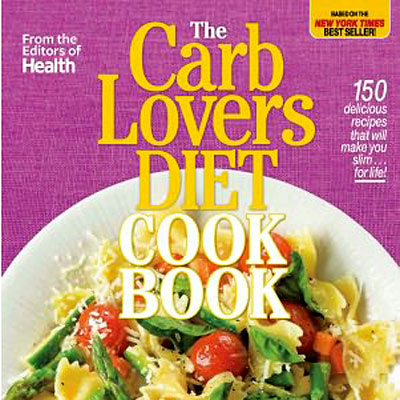 This
The CarbLovers Diet Cookbook
is a great cookbook! This has partly answered my question: how do I sastisfy my family's appetite and make something appropriate for myself for dinner? And did I mention, I LOVE CARBS!
This book
Eat this, not that supermarket guide
has also been amazing for me. I've had such fun toodling around my grocery section of Target considering all sorts of different things, and looking them up in my new companion. Remember how before I said I didn't want any pre-prepared foods? Well, turkey sandwiches also get pretty boring for me, so if I didn't have leftovers from dinner, a lot of times I was caving in at the last minute and getting food out for lunch. EVEN WORSE. So I toodled around checking out some new options and found this:
It cooks up in about a minute and is 320 calories. Add some fruit/veggies and you're set with a tasty, decent lunch. I'm still mostly eating whole foods, but I've found a few other pre-packaged goodies that have far fewer calories than my normal fare and are so easy and yummy.
I'll share more soon. I think it's time I checked in with my tv ladies. How are you doing with your resolutions? If one of yours is to get fit, check out
this
inspring lady - are you kidding me???