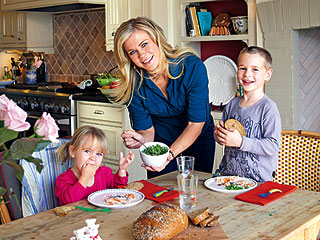 Fresh from People's Magazine's 'Cooking with the Stars' issue (which I'm thoroughly enjoying) is The Biggest Loser's Allison Sweeney with a way to spice up peas. I tried it on Saturday night and found it best to cook the bacon ahead of time in the microwave, then break it up, and add it to the dish closer to the end.
Alison Sweeney's Pleasing Peas and Bacon
Serves 4 (makes 1-cup servings)
• 1 ½lbs. fresh shelled peas or 2 (10-oz.) packages frozen peas (about 4 cups)
• 1 tbsp. canola oil
• 5 slices (about 5 oz.) bacon, diced
• 1 small sweet onion, diced (1 cup)
• 1 cup low-sodium chicken broth
• ½ tsp. each salt and pepper


1. Place peas in a pot of boiling water for 3 to 4 minutes. Remove peas from water and drain.


2. Heat oil in same pot and add bacon and onion. Cook, stirring, until bacon is rendered and onions are browned, 5 to 6 minutes.


3. Add peas and broth to pot and return to a boil. Reduce heat to medium and cook for 3 minutes, until most liquid has been absorbed.
4. Season with salt and pepper and serve warm.