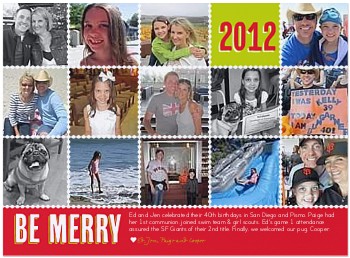 Merriest Photo Grid Christmas Card
I could not figure out this year how to get shutterfly to let me upload my card to a viewable size, and without all of the other clutter, so here it is, in all of its non-glory. I do love this card!
We had a wonderful holiday; non-stop fun from Friday to Tuesday, with parties, visiting family, caroling, opening gifts, playing games, watching movies and lots of other fun stuff.
I took hardly any pictures and instead tried to just enjoy the moment.
In other news, Cooper is celebrating his 6 month anniversary with us (his forever family) today, and I am hibernating a bit. It's good to be home!