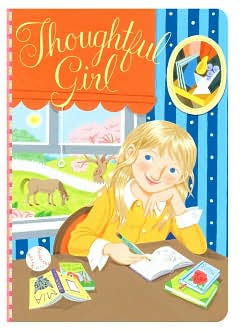 I bought this journal (with a slightly different cover) for Miss P for her 6th birthday. It was something that is (as P would say) "right up my alley." One of those things that mom wants for her daughter, that she kind of tossed aside after opening.

Well. Recently, she has been asking to have a journal. She is constantly writing, drawing, and doodling. I reminded her about this one, and it has been a constant companion ever since. It is set up to have a place to record thoughts and observations each day, and then a question or wondering of the day. There is also a section for friends' birthdays and personal info, and finally a sketching area.

She immediately wrote all of her friends names under their birthday months, plus several short personal narratives in the sketching section (with pictures). She also made a list of 'people in my family' and 'things I love' (Grandma Burk-ee, I think you made both lists.)

On the first 'thoughts of the day' page, she mused, "I wish I had an animal that was part dog and part giraffe. Like a diraffe." Under questions, she wondered, "how does God talk to us?" (Although we have to work on her spelling of 'us.' It came out 'a double s.' Content - high. Spelling - not so much!)

She was fully happy to share her journal with me. How long will that last, do you think?